Queen City Remodeling Experts
The Bathroom Remodel Charlotte NC Locals Rely On!
Bathroom Remodeling Charlotte NC
While they may not be the most used, bathrooms are one of the most important rooms in your house. So, it makes sense to choose the best bathroom remodel Charlotte contractors when you want to change the overall look of your bathrooms.
At Queen City Remodeling Experts, we're experts at giving bathrooms the glow-ups they need. Whether you want to bring in decorative vanities or install a whirlpool tub, you can count on us to make your bathroom look like something out of an architectural magazine.
We offer multiple bathroom services, including showers, vanities, and floors. Thus, when you come to us, we take care of all your needs, saving you from the hassle of hiring different remodeling contractor Charlotte NC for different jobs.
Give us a call today to learn all about our Charlotte bathroom remodeling services.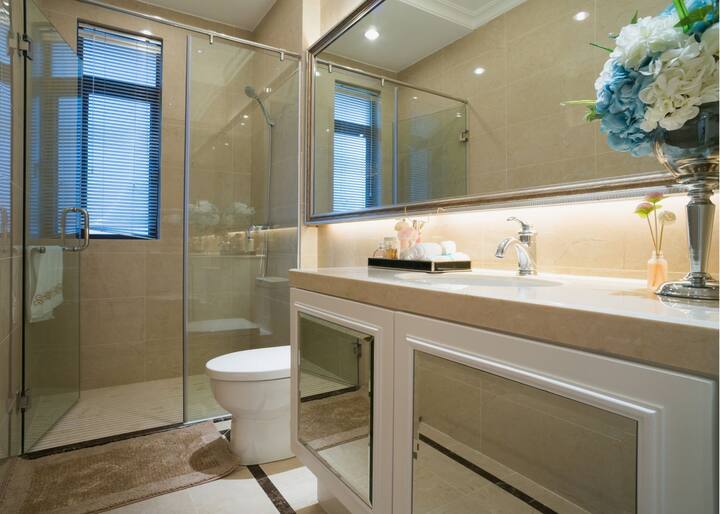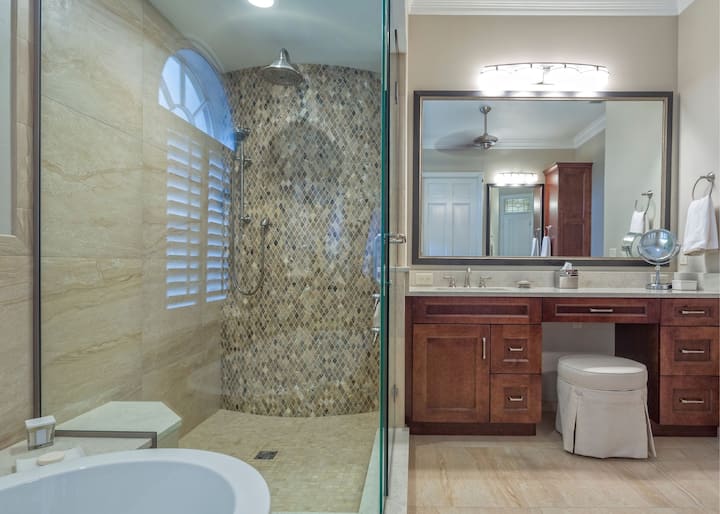 The Bathroom Remodeling Charlotte NC Locals Depend On!
Queen City Remodeling Experts came into being after realizing the troubles traditional remodeling methods posed to homeowners. We are a team of bathroom remodeling experts who know how to tweak a bathroom to make it look nothing short of stunning. 
At the same time, all our remodels are exceptionally functional, ensuring you don't have to compromise on functionality at the expense of aesthetics. Initially, we started from basic services as we had limited team members. 
However, we grew our business to serve as many households as possible in Charlotte. Today, our Charlotte bathroom remodeling services are not only popular but also praised by homeowners in the region. 
Our mission is to continue providing such impeccable bathroom remodeling services to our clients. Despite the changing times, our dedication to staying customer-oriented stays the same, and that's what makes clients love us so much.
Does Your Bathroom Need a Remodel?
Before you start looking for bathroom remodel Charlotte services, you need to ask yourself if your bathroom actually needs a facelift. While some homeowners want to remodel their bathrooms for aesthetic purposes, others prefer remodeling over repairing everything individually. 
Here are some reasons to opt for a bathroom remodel Charlotte:
Things You Need to Know About
Bathroom Remodeling
The Remodel Master Bathroom Charlotte NC Locals Trust On!
Renovations can be very daunting, especially when it comes to bathrooms, since the space needs to look good and be functional. From choosing the right tiles to picking the best color, you have to make a thousand decisions. 
Therefore, it's best to know a few things about bathroom remodeling Charlotte NC before you hire a remodeling contractor Charlotte.
Keep Everyone On the Same Page
It's very important to make sure everyone in the pipeline is on the same page, especially your Queen City Remodeling Expertsntractors. Don't assume the Queen City Remodeling Expertsntractors knows everything just because you gave them a general overview of what you need. 
Instead, you should spell out everything for them in the bathroom, from minor tweaks to major changes. At Queen City Remodeling Experts, we have an initial meeting with you in which we ask your preferences about everything, making sure the final output is according to your plan.
From our years of experience, we can tell you one thing clearly. Whatever you think the final cost of your bathroom remodel will be, the total will definitely be higher. So, make sure you keep some margin for that. 
It also helps to talk to a professional beforehand. When you get in touch with us for a quote, our representatives will break down the cost for you, making it easier for you to understand where every cent of your budget will be spent.
Often, homeowners make the mistake of keeping the electrical outlets in the bathroom out of range. If you can't connect your hair accessories and shaver near the sink, what's the point of having an outlet in the bathroom? 
That's why you need to ensure the outlets are in close distance to the sink so that you can curl your hair or tweeze your eyebrows easily.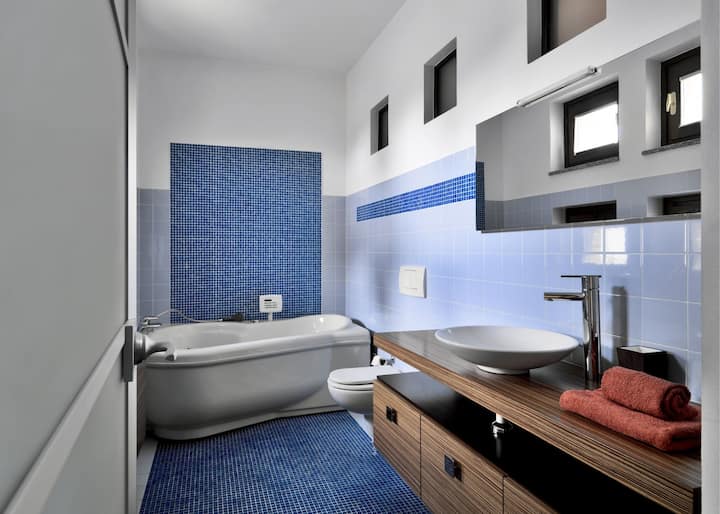 Think Twice About the Bathtubs
We have seen many instances where homeowners have initially been excited about the bathtub but later regretted their decision. Keep in mind that a bathtub will take a lot of space and may make your bathroom look smaller if not placed properly. 
Plus, it adds one more thing to clean in the bathroom, adding more toil to your daily cleaning. Before you choose to make a bathtub the part of your bathroom remodel, make sure you weigh its pros and cons.
The tiles in your bedroom won't be suitable for the bathroom since you need something that's not overly slippery. Some decent materials to choose from are natural stone, glass, porcelain, cement, and subway tiles. 
You can choose the color of the tiles according to your aesthetic or the cabinet color in the bathroom. While choosing the tiles, also make a decision about the grout. 
Do you want it to be a different color from the tiles, or should it blend in with the floor? Keep these things in mind when you're conveying your ideas to us so that we can take note of your preferences.
We take pride in offering every service you need to make your Charlotte bath remodeling a success. Since we have been remodeling bathrooms for years now, we know everything that can make or break the renovation. Here are some common solutions we offer in terms of bathroom remodeling Charlotte NC.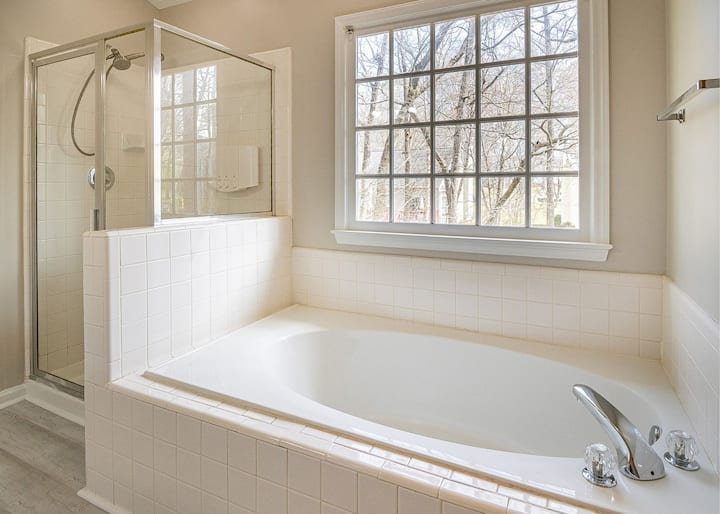 Whether you want to install a new clawfoot tub or replace your older one, we take over the task with ease. On top of that, we can work with a number of styles, varieties, and types, so you will never be disappointed in our workmanship. 
All you have to do is tell us your plan for bathtub installation, and we'll bring it to life. You can also talk to your experts about the right placement of the bathtub to make sure it does not lead to space constraints in the bathroom.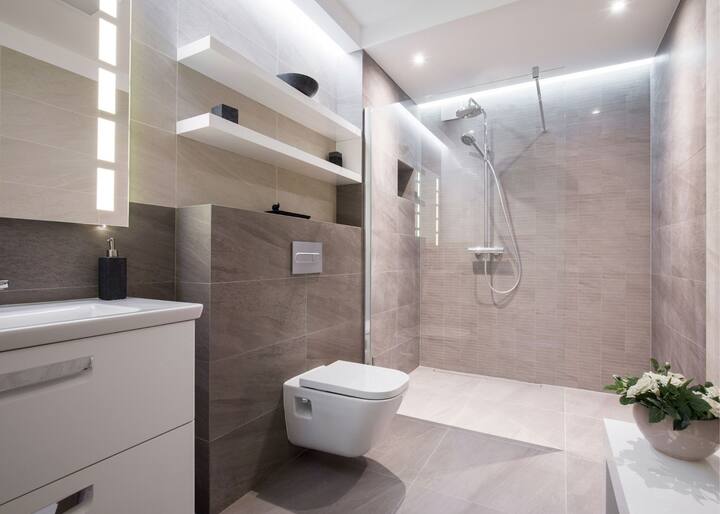 Shower Installation and Replacement
Are you planning on installing a new shower in your bathroom? Or do you want to make your current shower space bigger? Whatever you want to do with the shower space, we can do it with ease. 
Since we use quality materials, the showers will not only be visually stunning but also long-lasting, ensuring that you don't have to pay for a renovation any time soon.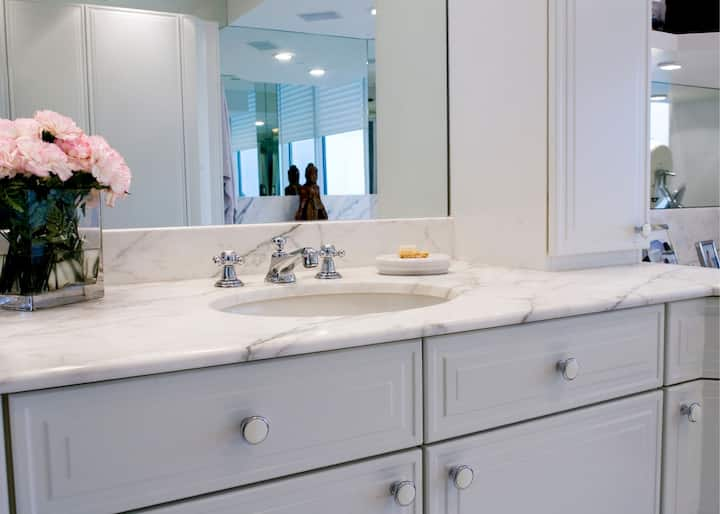 Over the years, you may have realized the importance of skincare. Now, you may want to have a vanity in your bathroom to make sure you take care of yourself just as much as you do of your home. 
Fortunately, we can help you accomplish this by installing a vanity in your bathroom. While some homeowners prefer to go with Scandinavian tones and accents, others like a more dramatic touch to their bathroom's aesthetic.
Whatever your taste is, let us know, and we'll cater to your individual needs.
Bath Remodeling Charlotte Frequently Asked Questions
Here are some frequently asked questions about bathroom remodeling in Charlotte that will help you get an idea about our services.
Checklist for Bathroom Remodeling
If it's the first time you're remodeling your bathroom, you might be overwhelmed by the number of things that need to be done. That's why it's best to have a checklist for your Charlotte bathroom remodel. 
Here are a few vital things to consider when remodeling your bathroom: 
Set Priorities:

If you have a limited budget or timeline, set your priorities straight. Is it more important to fix the tiles or to have a tub in the bathroom? Likewise, you should consider what the big picture looks like in your head. Prioritize things according to that. If the budget falls short, prefer the functional components rather than the aesthetic parts. 
Set Your Budget:

If you want to get your priorities straight, you'll need to specify a budget and stick to it. Do not keep pushing it just because you want to get that one expensive light fixture you saw on Pinterest. The budget will also depend on the number of areas in the bathroom you want to change. For instance, your budget should be bigger if you want to remodel the shower space, tiles, bathtub, and cabinets. 
Select a Color Palette:

Choosing the color palette should be one of the first things you do in your bathroom remodel. The color palette will determine the tiles you go for, and you also need to paint the cabinets accordingly. 
Get Permits:

If any specific permits are needed for remodeling in your region, make sure to get them before time. However, when you choose us for bathroom remodel, you don't have to worry about this as we take care of these details. 
Choose the Material:

After selecting the color palette, you also need to choose the materials you'll use in the bathroom. Keep them consistent with the materials you've used in the rest of the house, or your bathroom will look like a room in a whole new house.
Sure enough, you want everything to go perfectly, but that's not always possible. So, you need to consider the possible obstacles and be prepared to deal with them. Here are some things we have often noticed in our remodeling projects: 
Does the bathtub go through the door?

Here's the major question you need to ask yourself if you want to install a tub during the remodel. If the tub is too big to fit through the door, you may have to make arrangements accordingly. 
Is the wiring useful?

It's likely your bathroom will already have wiring. But will this wiring be useful for the new light fixtures and outlets? If not, your overall cost will increase as you'll also have to account for new wiring. 
Will the project be done on time?

When you choose Queen City Remodeling Experts for your remodeling projects, you do not have to worry about this part. We ensure that all our products are done on time. At the end of the day, we want the homeowners to be comfortable, and that's only possible if the bathroom is ready for use as soon as possible.
While bathrooms are often smaller than other rooms in the house, they have a lot of components and materials. So, when you're planning a bathroom remodel Charlotte NC, you need to create a list of everything you can change, update, or replace. 
Here's a standard list we have made for reference. Do note that your bathroom may have additional components.
Preparing for Luxury Bathrooms
If you want to give your bathroom a luxury touch, you'll surely have to add a few extra components. In that case, the costs will also be higher. 
Call us today to learn about our quotes for luxury bathroom remodels. 
However, if you want to make a checklist for luxury bathroom remodeling, here are a few things to put on it: 
Floors 

Mirrors

Cabinets 

Shower 

Tub

Toilet

Knobs 

Faucets 

Countertops
Vanity

Light fixtures

Decorations 

Furniture 

Tiles and grout 

Cement board

Exhaust fan 

Drywall
Electric heaters 

Heated floors 

Spacious interior 

Top-notch construction material 

Smart mirror

Television
Dimmer switches

Storage shelves 

Large cabinets 

Frameless shower enclosure 

Heated towel racks
Why Choose Us for Bathroom Remodel Charlotte NC?
Although there are many other Charlotte remodelers, you should give us a call if you want quality service and professionalism. Not only do we take customer satisfaction very seriously, but we have many testimonials to ensure that our claims are based on truth. 
Here's why you should choose us for your bathroom remodel Charlotte NC: 
Certified:

We are a authorized business, so you can count on us to be in accordance with the local legal structure. Plus, we make sure all members of our team are regularly trained to keep up with any new advancements in the remodeling field. 
Pricing:

If you want to enjoy impeccable craftsmanship at affordable pricing, you need to consult us for your remodeling projects. 
Timeliness:

In our long years of service, we have never missed a deadline. Our testimonials are a testament to this claim. We give you a date during the first meeting, and your bathroom will be ready for use on the very date. 
Professionalism:

When it comes to professionalism, we go beyond what's required to make sure our customers are satisfied, comfortable, and well-served.
Fill the contact form today to get in touch with a representative.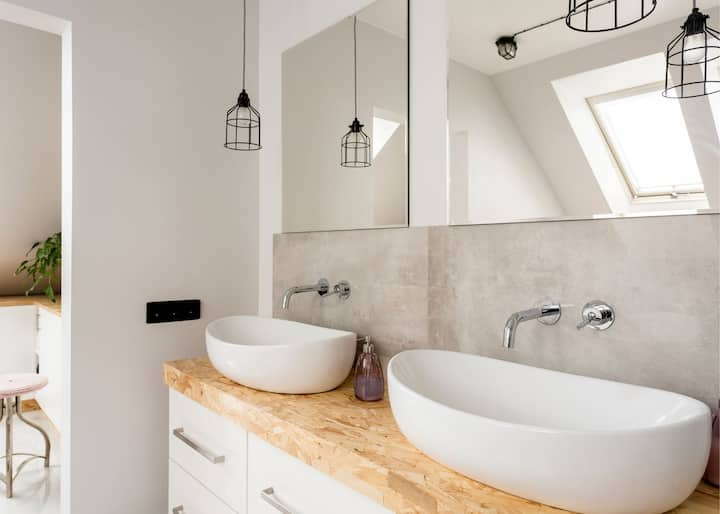 Although vanities aren't an essential part of the bathroom, if you have the budget, you should definitely think about getting one in your bathroom. Today, bathroom vanities are available in different styles and materials. 
When you choose remodeling contractors Charlotte for vanity installation, you get qulity workmanship at reasonable prices.
If you're interested in installing a vanity in your bathroom, here are a few popular types to look at: 
Vanity Cabinets:

As the name gives away, these are a blend of cabinets and vanities. The top part serves as your vanity where you can keep all your skincare, makeup, and hair care products. Meanwhile, the bottom section serves as storage space for towels or other toiletries. 
Vessel Vanity:

These vanities are a perfect option for people who do not have enough space in their bathrooms for a sink. The sink is installed in the vanity and looks like a bowl. Since these vanities are not very common, having one in your bathroom will make your home unique. 
Floating Vanity:

A floating vanity does not touch the floor and has less storage space than a vanity cabinet. However, it features an interesting design and is perfect for homeowners who might want to keep baskets under their vanities. 
Pedestal Sink Vanity:

Such a vanity also has a pedestal sink in it, adding a vintage touch to the bathroom. Plus, such vanities take up limited space and look great in smaller bathrooms. 
Whichever kind of vanity you decide to get for your bathroom, just show us a picture, and we will bring your vision to life. Get in touch today to learn more about our bathroom remodel Charlotte services.
Showers and bathtubs are the most relaxing places in the bathroom. When you come home after a long and tiring day at work, you just want to soak in a bathtub filled with Epsom salts or take a hot shower and slip under the sheets. 
Therefore, it's vital for the bathtub and showers to be as peaceful as any place of relaxation should be. If you have any special requests or designs in mind, let us know, and we'll let you know how we can accommodate you.
We are experienced enough to install all kinds of bathtubs, from regular to clawfoot ones. Here are some types to choose from: 
Corner Tub: If your bathroom has limited space, we recommend getting a corner tub since it only requires two walls. These tubs come in triangular and rectangular shapes.


Freestanding Tub: A freestanding tub has an artistic impact on your bathroom. Plus, it will contribute to raising the resale value of your home.


Clawfoot Tub: A clawfoot tub brings a vintage vibe to your bathroom and gives it an old-school appeal. Do note that such tubs need more space, so they may not be suitable for smaller bathrooms.


Hot Tub:

If you want to make your bathroom the ultimate space for relaxation, install a hot tub in it. The costs for this installation are higher, but they will be worthwhile in the end.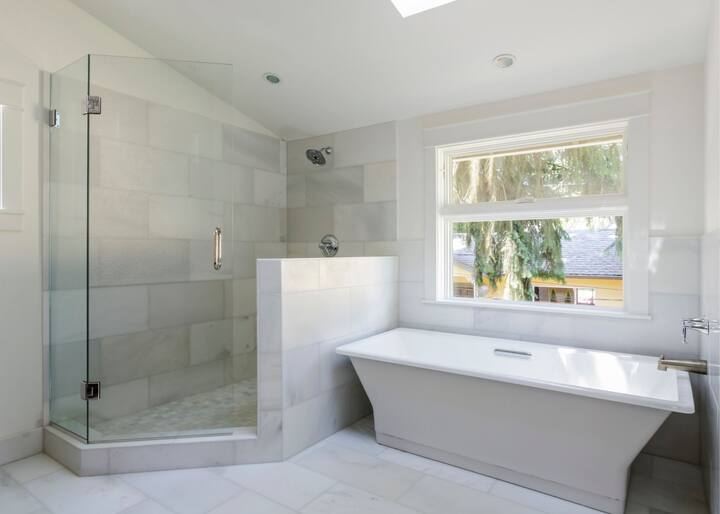 Offering Bathtub Replacements and Installations
Apart from installing a new bathtub in your bathroom, we can also replace your existing one. For instance, you may want to bring a smaller tub to free some space for furniture or other elements in the bathroom. 
All you have to do is give us a call, and our representatives will let you know how to proceed to get our Charlotte bath remodeling services.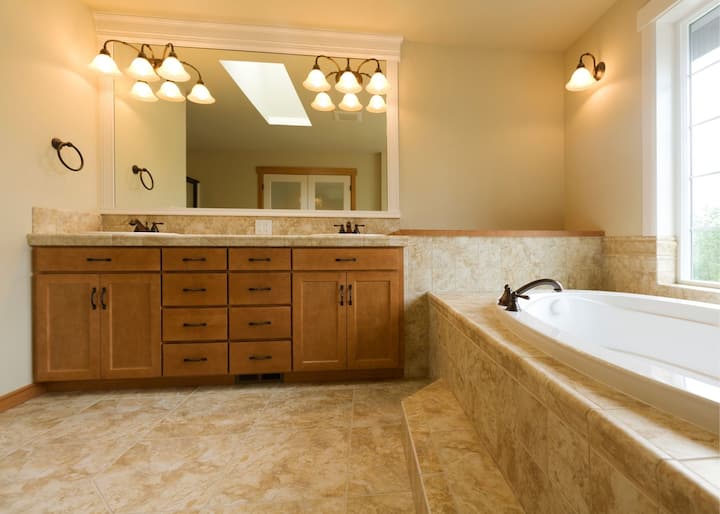 Flooring is possibly the most integral component of your bathroom since it brings the whole look together. Therefore, it's important to choose the flooring after considerable thought. We have installed floors for homeowners all over Charlotte and have received an overwhelmingly positive response from our clients. 
Call us today to enquire about our Charlotte bathroom remodeling flooring services.
Trends keep changing with every passing day, but they help you develop your taste. Here are some bathroom flooring trends to consider: 
Ceramic Tile:

Along with being visually appealing, ceramic tile is also sturdy and waterproof. Thus, it's perfect for the bathroom. On top of that, it is very easy to clean and comes in different price ranges. 
Porcelain Tile:

If you're looking for a fancier flooring option, try porcelain tiles. Alternatively, you can only use them for decorative purposes on the countertops and the walls. Do note that porcelain tiles are pricier than their ceramic counterparts. 
Heated Tile Floors:

Heated floors are not ideal for every homeowner's budget range. But if you want to make your bathroom luxurious and can afford to spend a little extra, heated floors are a must-have. 
Stone Tile:

Nowadays, many homeowners opt for stone tile flooring since it's unique. Some common stone types used in the bathroom include marble, travertine, slate, sandstone, and marble. Along with looking high-end, stone also comes in different polishes and colors, so you can choose something for your style easily. 
If you're unsure about the kind of flooring you need for the bathroom floors, you can get in touch with our representatives and will help make the choice easier for you. For any bathroom remodeling Charlotte-related queries, give us a call today, and we'll be at your service.
Choosing the right bathroom tiles can be difficult, especially if you're torn between different materials and color schemes. As for installation, you don't have to worry about that since we are familiar with all tile materials. 
If you want to discuss your tiling options in detail, give us a call today.
How to Choose the Best Tiles?
First and foremost, you need to ask yourself which material you want to see daily in your bathroom. Would you prefer the stylish appeal of limestone or the darker tones exuded by slate? Likewise, vinyl and ceramic tile floors are also popular among homeowners. 
You can choose the best one after weighing the pros and cons of each material.
If everything else in your bathroom is monotonous and you want to brighten up your bathroom, choose patterned tiles. While most tiles have black and white patterns, it's not hard to find colored options.
Alternating the size of the tiles in your bathroom can help create an interesting pattern. For instance, you can have smaller tiles on the shower walls and larger square tiles on the floor for a contrasting effect. 
Similarly, you might want to opt for hexagonal tiles on the floor.
The price of tile will depend on the material and the Queen City Remodeling Expertsmpany. Make sure you stay in your budget range, or you'll have less to spend on other components, such as faucets, sinks, and vanities.
What to do with the Countertops?
Coming to the countertops, you can choose to match them with the walls or the floors. Like tiles, there are different materials for the countertops too. 
Alternatively, if you're planning to get a vanity with a sink in it, you might not even need countertops. Call us today to get more details for your bathroom remodel Charlotte NC.
For some people, spending time in the bathroom is a ritual. It's the room where they clean themselves, do their makeup, perform skincare routines, and even read in the bathtub after a long day at work. 
So, it only makes sense for the bathrooms to exude a certain style. You can accomplish this by adding interesting light fixtures to the bathroom, especially above the sink and the mirror.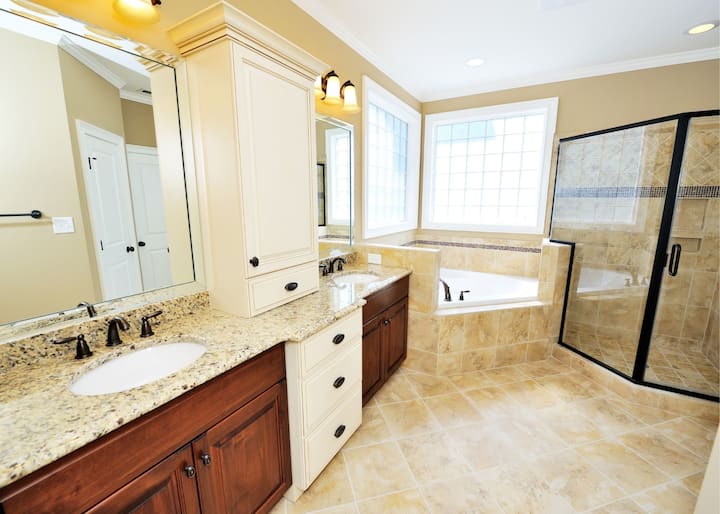 Here are some tips to make sure you're getting the light and design just right for your bathroom: 
Create Layers: Don't merely go with one light. If you want the light to spread evenly, make sure you're adding enough fixtures, such as pendants or chandeliers. The ambient light must be evenly spread in the bathroom to ensure there are no dark spots. 


Pendants or Sconces: Although sconces should be your first choice if you're planning to add a light fixture to illuminate the vanity, pendant lights act as impressive alternatives. They provide ambient light and may even act like accent lights.


Similar Finishes:

Most light fixtures have a distinct color, such as black, golden, bronze, or white. Make sure you're using similar finishes in the whole bathroom. If the cabinet pulls and tiles are black, you shouldn't opt for silver fixtures. Instead, try golden or black light fixtures to create a unified sense of style in the bathroom.
Bring Your Design Ideas to Life
As a homeowner, you must have a vision for the way you want your home to look. Often, you cannot convert this vision to reality due to the exorbitant prices some Charlotte remodelers charge and the lack of professionalism.
However, when you pick us for your bathroom remodeling services, you can sit back and relax while we make sure your bathroom looks just the way you envisioned.
If you are looking for one of the remodeling companies in Charlotte NC, get in touch with us today to get a quote for your bathroom remodeling Charlotte NC project.